ProductFlare let's you connect your own domain name to your Product's customer facing Roadmap for branding purposes and standing out from your competitors.
Each Product in your ProductFlare account can have it's own customer Roadmap with branding settings and it's own custom domain connected, so if you have multiple brands or businesses then each Roadmap can have a different domain.
The general structure of the CNAME domain system to work with ProductFlare is a subdomain, where you point the host to ProductFlare. It does not support root domain. For example, you can have something like 'roadmap.yourdomain.com' connected to your Roadmap (where 'roadmap' can be anything you like!), however, you cannot have 'yourdomain.com' connected.
Steps to connect your custom domain are below:
1) Log in to your domain registrar account, eg.) GoDaddy, 123-Reg, One.com (wherever you bought your domain.)
2) Go to the DNS settings in the domain that you want to connect.
3) Create a new DNS record, using the type CNAME.
4) In the 'Host' input, enter the word you'd like to use before your domain where your Roadmap will be located. For example to achieve 'roadmap.yourdomain.com' just enter 'roadmap'.
5) Set the 'Points to' input to the following URL: announcefly.dony.clearalias.com
6) Save the new record and wait around 10 minutes (it can take up to 24 hours for new DNS changes to complete).
7) Go to your ProductFlare dashboard and click the Roadmap name you want to link to the new subdomain you just created from the left-hand sidebar.
8) Click the 'Design' button, then in the CNAME input enter the subdomain that you just created in your registrar account. For example 'http://roadmap.yourdomain.com'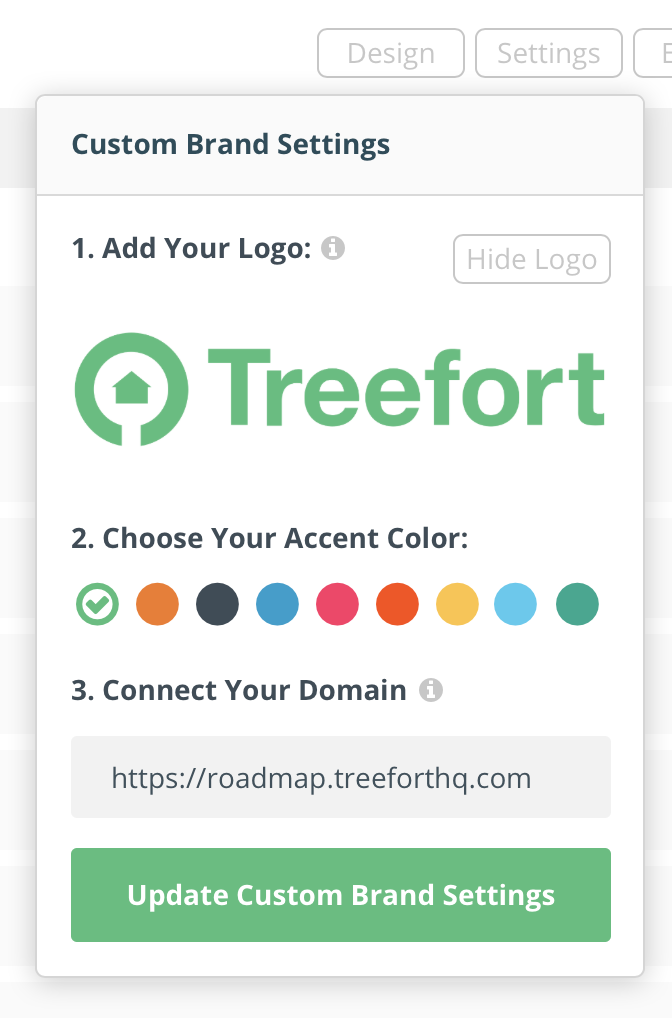 9) Click the 'Update Custom Brand Settings' button.
That's it!
Now when you visit the custom domain your customer Roadmap will be visible!
Troubleshooting:
Product is Archived message - this means that the Product itself is either archived in ProductFlare, so just unarchive it using the Product settings to fix this. It may also be caused by the Product not being set to Public and so is not publicly visible. If this happens please contact us using live chat.