Installing the Changelog on your Brizy Cloud Website
Installing the Changelog on your Brizy Cloud Website
By Sai Teja
updated 10 months ago
In this article, we'll take a look at how to install the Changelog widget on your Brizy.cloud website so you can keep your users or customers up to date with any product changes, updates, upcoming webinars or general announcements.
1) To get started, open your ProductFlare dashboard, and click on a Product that you want to create a changelog for on the left sidebar.
2) Click the 'Changelog' button in the upper right corner of the page as shown below: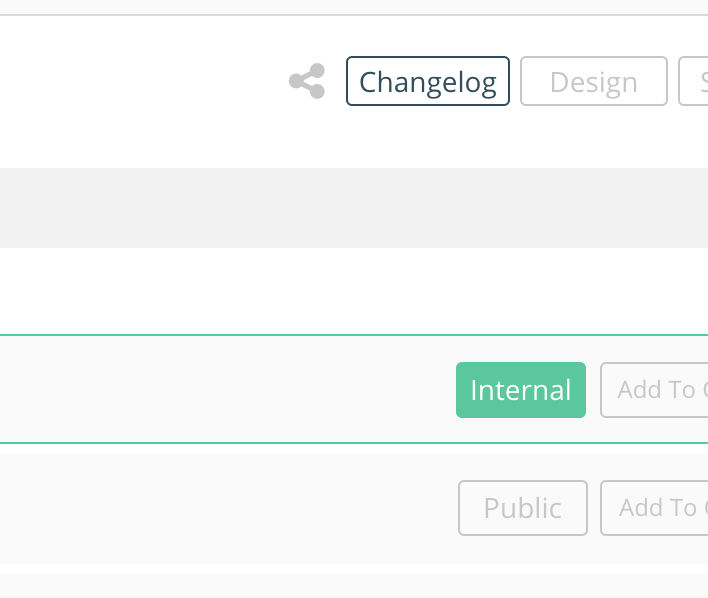 3) In the pop-up, enter the element name that you want to trigger the widget. This is the trigger element that opens the widget when your website visitor clicks it. It can be anything, but the most common are a 'What's New' link or a 'bell' type icon.
Important: Don't enter # or . before the element name, we only need the text value.
See below that we have just added the text name 'changes' in the CSS ID input for the icon element in Brizy. We recommend using an icon element in Brizy to trigger the changelog - the bell works great!
Currently, other elements such as the Button are not working correctly in Brizy Cloud to trigger the widget, so an icon is the best option.

Below, you can see that we have entered the same text name 'changes' in the input for the element name in ProductFlare. This is important that both the Brizy input and ProductFlare input match up.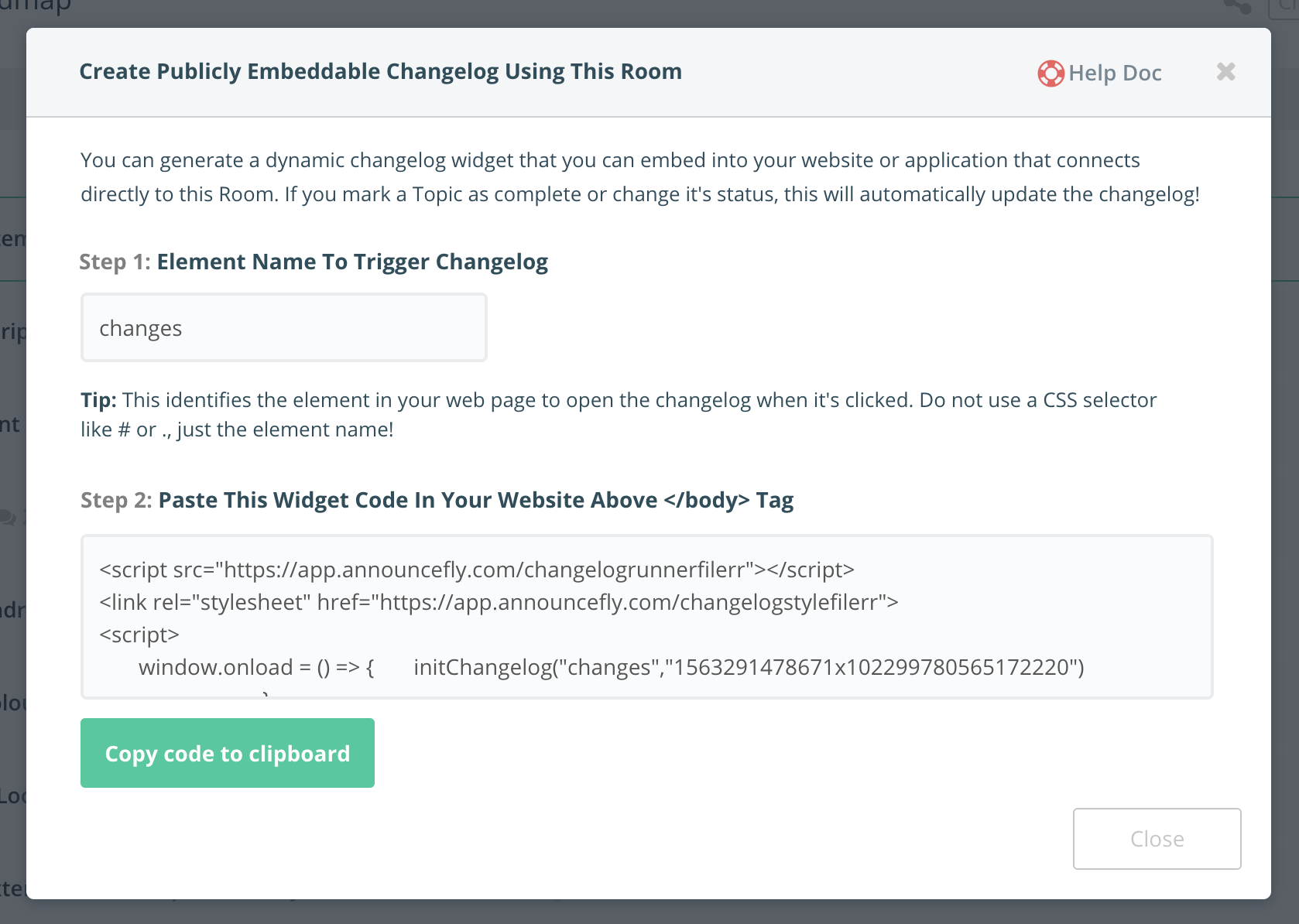 4) Click the green button to Copy the code snippet to your clipboard.
5) Go back to Brizy and then click the 'Settings' icon in the lower left hand corner, then click on 'Code Injection' link.
You should see the popup below. Just paste the code snippet copied from ProductFlare into the 'Code Injection > Footer' input like below: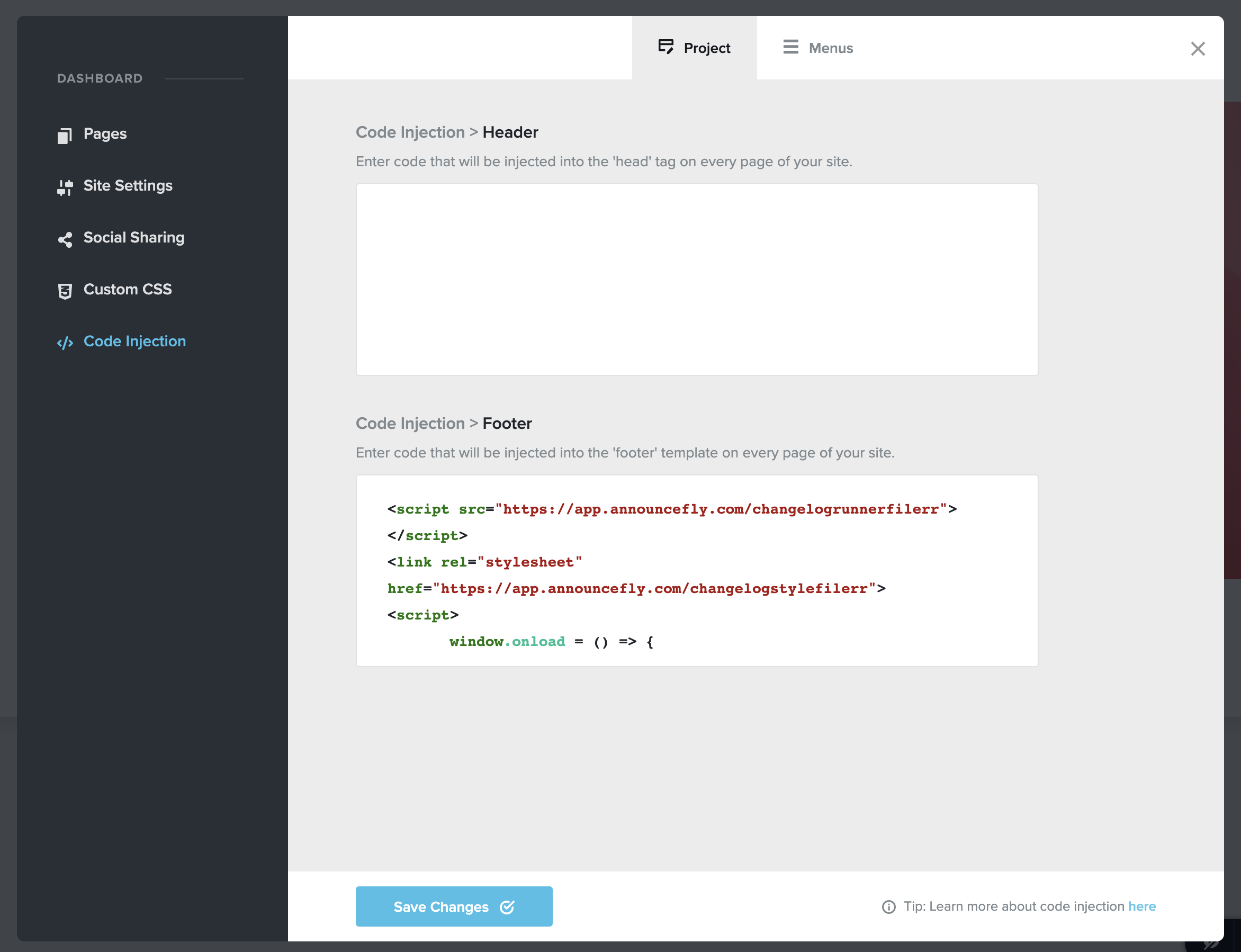 Then click the blue 'Save Changes' button.
6) Close the popup, and in Brizy click the 'Publish' button in the lower right corner (it might say Update if you have already published before).
7) Open the website in a new tab, wait for it to load (the code is in the footer so the full website needs to load first which usually takes a couple of seconds), then click the trigger icon.
The widget should now open!
Didn't follow it all? Watch the video walkthrough below:
Did this answer your question?